Young Adult/Paranormal Romance/Mystery
Date Published:
Feb 18, 2014
2015 Readers' Favorite Gold Medal Winner for YA Mystery
2015 RONE Award Finalist for YA Paranormal
2015 New Apple Top Medalist for Young Adult Ebook
Chosen as one of 400 for the second round of the Amazon Breakthrough Novel Award for 2014!!!
Rising Tide will sink its fangs into you, keeping you awake into the wee hours of the night
Could Maura's life get any worse? ...turns out it most certainly can.
Isolated and sheltered by her lonely mother, Maura's never been able to make friends. She seems to drive her classmates away—except for the odd times they pay enough attention to torture her—but she doesn't understand why. Maura considers herself to be a freak of nature, with her unusually pale skin and an aversion to the sun that renders her violently nauseous. Her belief is only worsened by the fact that almost everyone around her keeps their distance.
Even her own father deserted her before she was born, leaving Maura alone with her emotionally distant mother, Caelyn. Even though Maura is desperate for answers about her unknown parent, Caelyn remains heartbroken and her daughter can't bring herself to reopen her mother's wounds. Or is there a more sinister reason Caelyn refuses to utter a word about her long-lost love?
When a cruel prank nearly claims Maura's life, one of her classmates, Ron, rushes to her rescue. Darkly handsome & mysteriously accepting, Ron doesn't seem to want to stay away, but Maura is reluctant to get too close, since her mother has announced she's moving the two of them to Vancouver…nearly 3,000 miles away from their hometown of Indiana, Pennsylvania.
If life wasn't already challenging enough, Maura begins to experience bizarre, physical changes her mother seems hell bent on ignoring, compelling Maura to fear for her own life. Vicious nightmares, blood cravings, failing health and the heart-shattering loss of Ron—as well as the discovery of a tangled web of her own mother's lies—become obstacles in Maura's desperate quest for the unfathomable truth she was never prepared to uncover.
Book Review
Maura (Maura) is a girl made to grow up faster than she should. Her fairly strict mother keeps a close eye on her, especially after the "loss" of her father. Maura never quite fits in, so she is excited when the popular kids begin to pay attention to her. As it turns out, their attention was part of a cruel joke that leads to a head injury and a broken spirit. Which lasts a short while, as she soon meets Ron: he is older, attractive, sweet, plays in a band, and instantly dotes on her. Their romance is hard and fast, almost like an addiction. The only regret Maura has is that she is moving at the end of the school year, relocating to Canada. That is going to hamper the romance she has with Ron. Yet that is the least of Maura's worries. She is going through changes that leave her scared and lost. Always sensitive to the sun, she starts to crave meat and experiences a few physical changes that leave her an emerging beauty. And to her alarm, she developed a set of canines that can do some serious damage. Her mom tries everything to protect her from what is happening, hoping to convince Maura that she should stop worrying so much about what is happening. But how can she not?
Maura was an instantly likable character—she was no victim, but still betrayed a vulnerability. A high school outcast, but with spirit about her. The development of Maura's change is evenly paced, even though as a reader it is obvious what is happening to her. I don't understand how Maura, familiar with horror movies, didn't at least think or consider, no matter how silly she thought it was, that she might be turning into a preternatural creature. But who would? I don't think I would have thought I was changing into a monster if it were happening to me. The whirlwind romance she was a part of was so cute, and I wanted so much for them to work out. I was scared something would happen to take away the only thing that made her happy. Since this book is part of a series, there is something to look forward to. Maura's story is, by no means, finished. There was some resolution, enough to satisfy the reader at the end of the novel, but there are unanswered questions to compel a reader to further delve into the books.
Rising Tide was a good and excelling read. It was dark, but not so much to be too much for a young adult reader. Even an adult myself enjoyed the dark quality. I would recommend it to people who like supernatural themed novels, definitely.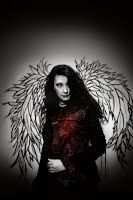 Claudette Melanson writes dark fantasy in Kitchener, Ontario with four bun babies: Tegan, Pepper, Butters & Beckett. She graduated from Indiana University of Pennsylvania with a BA in English, BS in English Education and an MA in Literature. Harboring a deep admiration of vampires since the age of five left her with the desire to eventually become one, and now fuels the creation of her favorite paranormal characters. She hopes to one day work full time as an author, since there are many, many stories playing out inside her head.
In her very scant spare time, she enjoys watching Japanese Anime and reading vampire stories...along with other genres of great fiction, as well as riding every roller coaster she encounters in both her hometown and away at signings. An advocate for good health and ketogenic eating, her favorite foods are bulletproof coffee, cashew-flour crust pizza and treats made with xylitol and almond, coconut or cashew flours.
Future dreams include a cabin boasting a roaring fire, isolated inside a snow-filled wood in the Yukon—the perfect writing spot—and the completion of dozens of future novels and stories. A Rabbit Rescue fanatic and loving bunmom, she also hopes to help rescues all over the world save many innocent lives.
There was no shock strong enough to stop me then. Just a greedy, driving impulse pounding through every cell. I was hungry, and I wanted beyond all wants, to eat. A red film pervaded my eyes, turning the world crimson. My pulse screamed inside my head, exiling all other sound. And the boy's blood called to me, drawing me down to my knees on the ground beside him.
"Maura!" From somewhere very far away, part of me acknowledged Ron's voice. The reverberation was enough to draw me up, up, up from where I was, at present, drowning in gluttony at the taste of blood. Not quite enough though; I continued to lap at the side of the nameless boy's head.
"MAURA!!" Ron's voice was much more forceful then—a force to be reckoned with—and rife with shock. But he didn't settle for shouting at me. I felt him behind me, hooking his hands under my shoulders and jerking me to my feet in an instant.
He whirled me around, roughly, and I found myself staring blankly into his face, trying to focus. "My god! What are you doing?!!" He was shouting at me, his face not an inch from mine, but I still couldn't come around from my bloodhaze completely. I wanted to shove him away…violently…and reattach my mouth to the bloody wound at my feet.
"Stop! Leave me alone!" I fought against him until I saw Shane coming through the door after us. He stopped short and stared at me, his mouth gaping open with shock, fear in his eyes. Ron pushed him back inside, slamming the door in his face.
He turned his attention back to me and shook me forcefully. "Maura." My name came out a rough whisper. "What's wrong with you?!!"
He wiped the back of his right hand across my mouth. The left came up after to cover my mouth and nose, attempting to sweep away the bloody mess with his fingers. I heard from that small, not-in-control part of my mind again. A tiny voice wondering exactly what was happening. The part in control didn't care about anything except his exquisite scent. He smelled better than the pizza, better than the boy's blood… I struck at him, precipitously, like a viper. He narrowly avoided the sink of my teeth into his skin.
I had to give Ron credit; he only looked frightened for a moment. In the slice of an instant, he composed the look on his face, bravely took another spit-laden swipe at the corner of my mouth and jerked the door back open.
He hauled Shane out by the front of his shirt and then slammed the door shut—that time in Merina's astonished face—once again.
Shane's eyes slid toward me, then flicked quickly back to Ron's face. They stayed there.
"Shane." Ron said his name with calm and quiet. "This guy fell and hit his head." He inclined his own toward the figure sprawling before us. "Maura was trying to help him by cleaning up the wound." He said those words with such weight, as if he were burning them into Shane's head with a branding iron. "You got that? She was helping him." When Shane didn't respond he shook him firmly, as he had me before. "Do you understand?"
Shane snapped out of the trance he'd seemed trapped in. He looked from Ron's face to my own, blinked a couple of times and then nodded his head. He licked his lips before he spoke. "Yeah. Yeah, I've got it." He shook his head to clear it, and Ron released his grip on Shane's shirtfront.
At that moment, my head snapped around to the left corner of the house at the sound of approaching footsteps. Caelyn glided into my view, as smooth as silk in her tight black-leather jacket. The expression on her face was enough to render my knees incapable of supporting my weight. I slid toward the ground, but Ron hauled me back up immediately. I tried to form words, but my vocal cords didn't seem to be working. My head was starting to clear to the fact that Caelyn was going to kill me, slowly, painfully… I looked up to Ron, fully mindful he had no power to save me.
It was too late then… He was ringing the doorbell. He looked so much braver than I felt. I could see the anger that had crept back into him in the hard set of his lips, the flash in his dark eyes.
Caelyn had torn the door open immediately, anxiety all over her face. She looked at Ron, dumbfounded. She must have then caught sight of some part of me, because she instantly peered around his shoulder to find me standing meekly behind him, clad only in a boy's shirt that just barely cleared my hips.
"Maura?! What the…" Her eyes fairly popped with dismayed astonishment.
"Hi, Mom." What an asinine thing to say. I should have at least started with "I'm okay."
Caelyn just stood there with her mouth hanging open. I felt the fear turn over, like a living thing in my stomach. How was I going to survive our confrontation? How could I even begin to explain everything that had happened that night?
Luckily, I had Ron. "Hi, um, Ms. DeLuca." He started out sounding very shy, but as my mother's brows furrowed closer together, he put a stronger edge to his voice. "I came to bring Maura home." She was still scowling.
"Um…I'm Ron by the way." He put his hand out to her. She ignored that entirely.
My mother's glare was venomous. "Maura! Get in the house this instant!"
Oh boy… She thought Ron was at fault for whatever imagined atrocities were going through her brain right at the moment.
"Mom!" I was desperate to put everything right, despite how much trouble I knew I'd be in. "You have it all wrong!"
"I said GET IN THE HOUSE!" she screamed at me, absolute fury flying from her eyes. I'd never seen her so angry before, and I was terrified. "Do I need to ask you again?"
"N-n-no ma'am," I stuttered. I hurried past Ron, but not without looking up at him with apology in my eyes. I felt horrible for his being put in the middle, just because he'd happened to save my life.
Once inside, I steeled myself for another attempt at speaking to my mother. "Mom, will you please just let me…"
"Don't say anything, Maura." Her voice shook. "Do you have any idea what you've put me through tonight?"
I was confused then. Did she want me to stay quiet or answer her question?
Ron saved me again. "I think I can explain." He took a tentative step onto the living room carpet.
I didn't like the way Caelyn's head snapped around when she looked at him. "What was your name again?" she asked viciously.
I saw him swallow hard as he answered, "Ron."
She turned on him then. "Well, Ron!" It sounded like she'd chewed on his name before spitting the one syllable out. "Do you mind telling me why it is you're out with my daughter when she's supposed to be with Katie Parker? And after you've answered that, I'd really love to know why you would bring her home wearing only that!!" She pointed the index finger of her shaking hand at me, standing on the plush blue carpet next to our couch, holding onto its arm for support, my knees knocking together.
Ron went a little pale… I couldn't stand to see my hero wrongly accused.
"Mom! Listen to me! If-if it weren't for him, for Ron…Mom, I'd be dead right now!" I shouted all the words out quickly before she had a chance to silence me again.